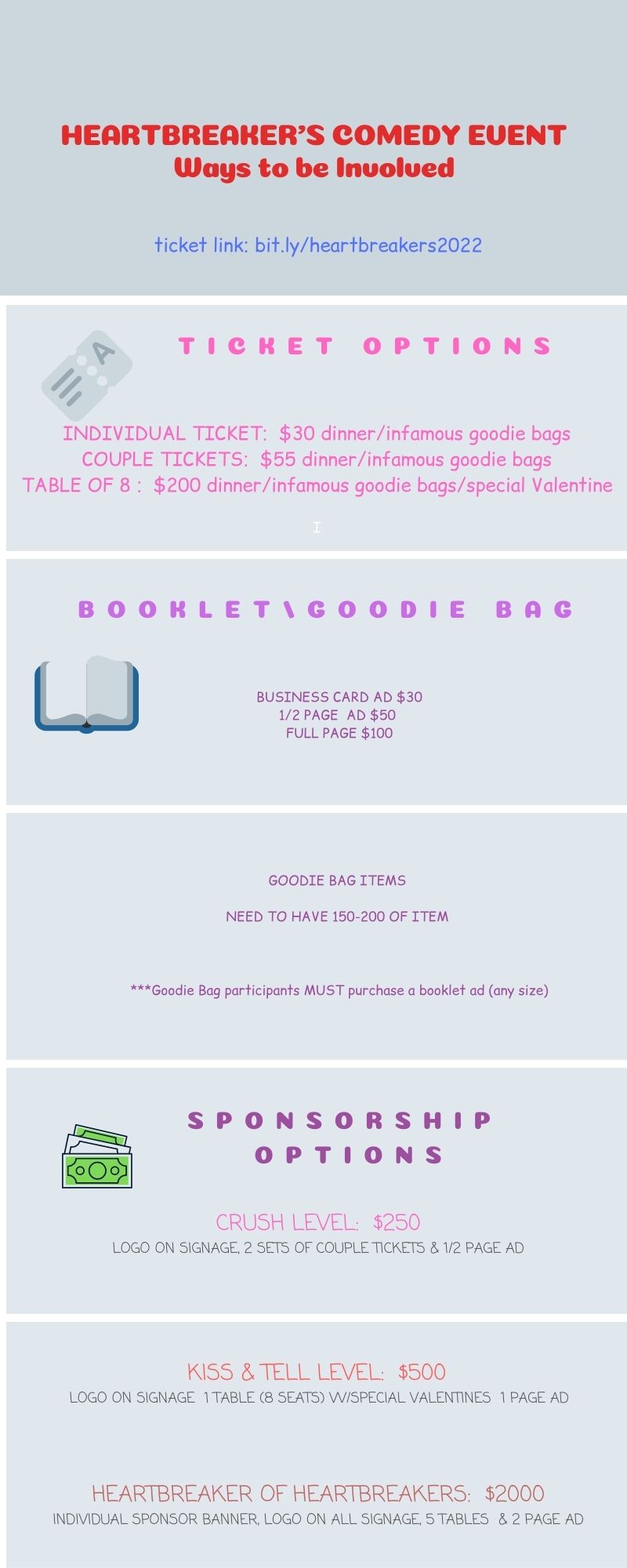 Hello and Welcome!!! This is the page with all the information on this event including ticket choices, ad options and sponsorship possibilities.
Excited to announce first stop of the #SWT2022 #Heartbreakers  at The Emerald Theatre!!
2/12/22 doors at 7pm/8pm
(flyer has all the details so can be shared)
 This event is benefiting 4 charities:
Sparkle Network's Dream, Believe, Do Scholarship: 2022 High School seniors can apply–has community service component .  A 501(c)(3) nonprofit community of charity, business, comedy & more. Creating awareness & giving a louder voice to organization's & causes based in MI. We focus on all things Metro Detroit/MI. Our signature programs: Prom Closet Project/Dress Into A Dream, Operation Little Princess, Sparkle Wrapped Tour Comedy Events (Heartbreakers (feb) & MomWouldBeSoProud(Nov)), and donate/awareness programs.
 Great Lakes Burn Camp for Kids:  A special place for kids ages 6-17 to meet, heal, grow, and support other burn survivors and burn injured children. Kids share their stories and bond with other kids in a comfortable, relaxed environment. Unconditional love and acceptance is only part it.
 Woman's Life Chapter 911 Macomb Angel's:  a group of volunteers that to volunteer service projects and matching fund fundraisers for individuals and Nonprofits in Macomb.
 Crossroads Comedy: a metro Detroit based Comedy group that brings local comedy to venues all over Michigan, while raising money, donations, and awareness to charities all over the country.
They are participating to help TCB Youth Mentoring in Mt. Clemens. 
TCB Youth Mentoring Inc is a non-profit youth organization dedicated to assisting at risk youth between the ages of 12 and 21 years old. Our primary goal is to provide after school and weekend opportunities that will help to keep teens on track.
Come enjoy some  heartwarming laughs, sweet treats and of course grab one of our infamous goodie bags (they are a legend by themselves).
We have great line up:  Our girl Moe Lietz will be MC/Host and keeping our "heart breakers" in line Justin Divozzo, Tim Finkel and Mike Ball.  They all share their unique outlooks on everything from dating to just life and you never know who may make a surprise visit.
Meet our line-up:
Our girl Moe is back as MC for this signature event. She's full of Irish sarcastic wit about everyday life observations.and sometimes the bubbles you wish wouldn't appear over your head make it out anyway just warning.
Facebook: Maureen Conlon Lietz   IG: Moelietz        Twitter: friskyred4
Next Up:  Justin Divozzo
Hailing from Metro Detroit, Justin is a blue-collar factory worker who finds himself blowing off steam on stages across the Midwest, delivering his blunt observational humor of the world around him as he tackles subjects like dating, work, and being a father. He also runs a charity called "Crossroads Comedy" where he has raised money for foundations such as Backpacks for Kids, Wounded Warriors, Gleaner's food bank of Detroit and most recently Children's Hospital of Michigan in Detroit. Make sure to check out Justin at a show near you, he simply does not disappoint.
 Facebook: Justin Divozzo   IG: jaydivozzo    Twitter: JustinDivozzo
Next Up:  Tim Finkel
Tim has traveled and performed on as many stages as his wife has given him permission to.  His musings on family life, distaste for other people's children, and being a dad will make you wonder if having kids is right for you…or him.  Despite his constant lack of sleep, Tim brings a farcical energy to the stage that sheds light on the dark side of middle-aged modern parenting that no one is willing to confess.
 Tim is the creator of Laughs 4 Wishes, a comedic event which benefits the Make-A-Wish Organization of Michigan. He also teaches a Teen Comedy Class at the renowned Mark Ridley's Comedy Castle where you can often catch him as a regular weekend performer.  He was a finalist in the Detroit to LA Comedy Competition in 2019 and was the runner up in the One Night Stan's Comedy Club "Who Wants to be a Headliner Competition".  We really wanted to get the guy who won both these competitions but couldn't…so even though Tim hasn't won anything…we assure you he's funny
Facebook: Tim Finkel   IG: tim.paul.finkel
Last in our line-up and fan favorite:  Mike Ball
Mike Ball- From Saginaw, Michigan all the way to Los Angeles California, Mike has been carving his way with his unique in your face style of comedy. Starting off as an intern for Pauly Shore at The World-Famous Comedy Store to working the door at the Haha Comedy Club. All the while living in the back of his Pontiac Aztec on Venice Beach. Mike has taken all what life has given him and turned it into a comedy act that can be described as tenacious. No two shows are exactly the same! At Mike's show you can always expect crowd interaction, guitar improv, and hilarious stories about girlfriends, family, and friends!
 Mike has been able to perform at the Laugh Factory, The World-Famous Comedy Store and even headlined the San Diego Comedy Palace. He also had the opportunity to share the stage for comedy legends, Ralphie May, Damon Wayons, Nick Guerra, Dave Landau, Norm Stulz, and Rob Little just to name a few. Currently, Mike is producing the hit comedy series "The Future of Comedy Show.
Facebook:  Mike Ball  IG: iammikeball  Twitter:  IamMikeBall
 We recommend early ticket purchase cause in true Sparkle fashion we always have Surprises in store.
Any questions, please email sparkle.network3@gmail.com.
  As always watch this event for updates and of course surprises…