Very proud to announce this event & the line up we are fortunate to have:
MC for the evening & proud supporter:  Paolo Busignani
Likeable, energetic, and charming are just a few words to describe Paolo Busignani. Did we mention funny? Growing up with a parent from San Marino, Italy and one from Detroit, Michigan; Paolo has the alluring blend of a boisterous, passionate Italian with a Mid-Western charm that gets audiences rolling with laughter. Growing up speaking Italish (an incoherent mix of Italian and English) he uses characters and storytelling to bring audiences into his world. He draws upon his family, painful life lessons, being a father, and his numerous opinions, to give his audience an experience they won't soon forget.
website: paolobusignani.com   FB: Paolo Busignani T: @PaoloBusignani     IG: @pbusignani
Second up on our roster & proud Army Man:  Dave McDonald
Is it a good thing, or a bad thing, to be voted class clown…of the police academy? Now retired from a life of fighting crime on the streets, Dave now fights boredom from the stage with his unique and hilarious observations of everyday life events, and emerges victorious.
FB:  Dave McDonald
Third up on our roster & proud Marine:  Steve Smargon
Steve Smargon is known in the comedy universe as, "The Bipolar Marine," and has been called, "hilarious, plain and simple," by the Toledo Free Press.  His twisted takes on life cover many diverse topics and his style on any given night all depend on whether he took his prescribed medication…or a handful of Skittles.
FB:  Steve Smargon
And we end our roster with proud Marine:  Dwayne Gill
Feeling his job was way too serious for someone considered funny since birth; Dwayne found an outlet for his humor when he first stepped onto a comedy stage at the Ann Arbor Comedy Showcase in 1993. After only two more performances, he joined the ranks of professional comedians with his first paid booking at Gadzooks Comedy Club. A native of Detroit Michigan and a member of Kappa Alpha Psi Fraternity Inc, Dwayne's taking the comedy world by storm.
"Right then I knew comedy was what I was here on earth for," he laughs. "And I'd much rather take laughter than a bullet any time."
Dwayne's topics range from current events, men and women relationships to the crazy situations he's encountered as a police officer. As an actor, Dwayne has appeared in the ABC crime drama Detroit 1-8-7, and will be making his big screen debut in the movie "Crave" He has also been a guest on the nationally syndicated "Bob and Tom" Radio show.
website:  dwaynegill.com   FB:  Dwayne Gill   IG:  @thecomedycop  T:  @DwayneLGill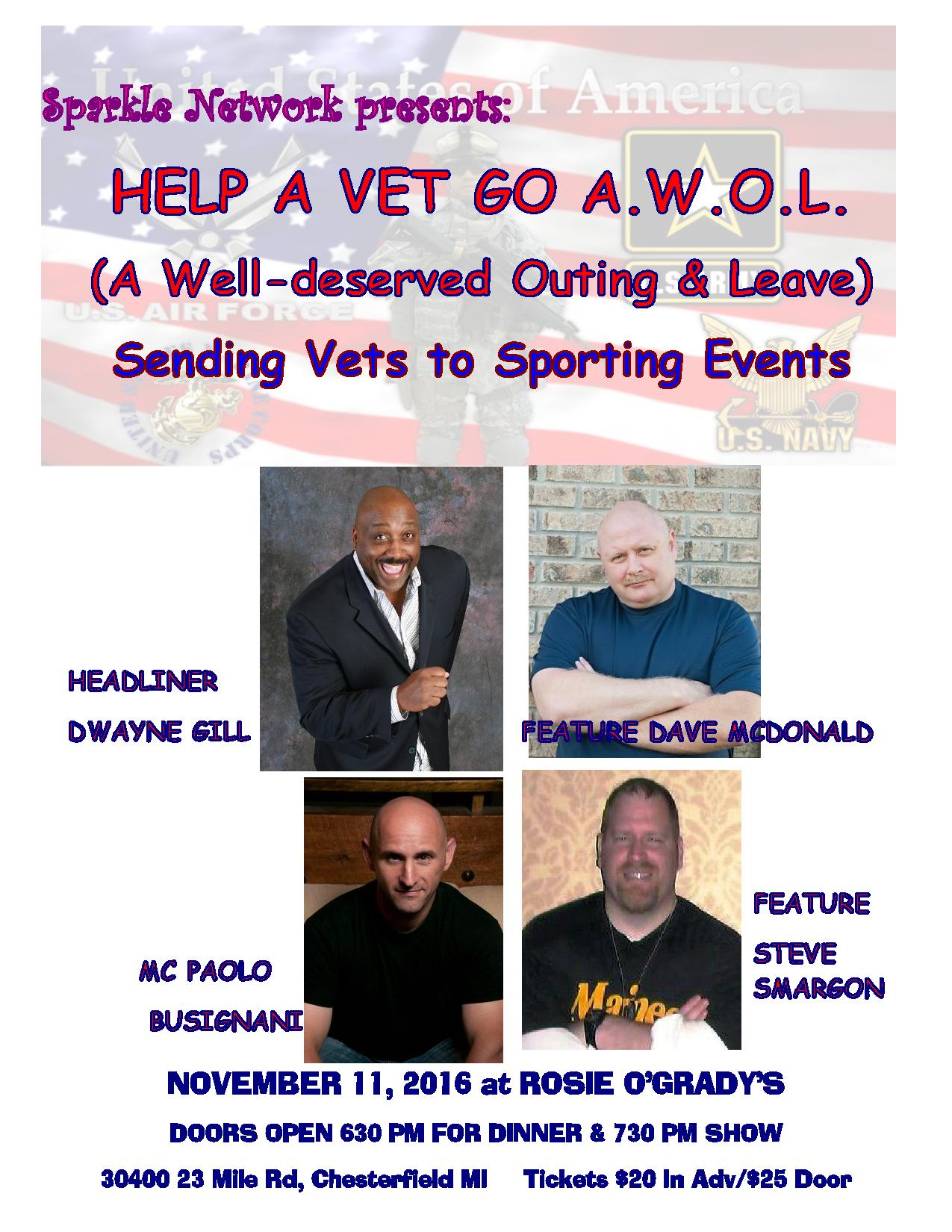 Buy tickets for Help a Vet Go A.W.O.L. (A Well Deserved Outing & Leave)Comedy Event